You know electronic dance music (otherwise known as EDM) has truly hit the mainstream when big brands get into bed with DJs who are rock stars, rock stars who are simply rock stars, or a mash-up of both. Big brands have been down with EDM for some time. Red Bull was practically invented for nightclubs and Absolut has always done cool stuff with the genre for years. Of course, those brands had a vested interest in club culture, because that's where their products are generally consumed.
For their "See What Unfolds" campaign, Trident, a division of Kraft Foods and makers of the popular chewing gum of the same name, virtually unfolded (pun intended) a YouTube, Facebook and Twitter, which put rock star DJ, Steve Aoki together with true 80's rock stars, Duran Duran.
First, let's put aside the fact that gum is a virtual anathema to nightclubs. For as long as we can remember, nightclubs have pleaded with punters to leave their gum at home, lest they have to peel the sticky stuff off of the underside of champagne soaked tables. Well, maybe Trident didn't get that message, but that's okay. We know big brands don't really do their homework when it comes to the fine details. Chalk it up to a rookie mistake. Sort of like Justin Bieber's publicist pitching a scoop on the teen pop-star to XXL Magazine.
It all started on June 13, when Trident published a Tweet on their Twitter account @tridentgum announcing tickets for the first in a series of national "See What Unfolds" events at Brooklyn's Terminal 5.
https://twitter.com/tridentgum/status/212955208886648833
After an hour of Aoki warming up the crowd, Trident tweeted Duran Duran's appearance on stage.
https://twitter.com/tridentgum/status/215617649621733376
In preparation for the campaign with Aoki and Duran Duran, Trident put the superstars together in the studio, where they collaborated on an updated remix of the classic, "Hungry Like The Wolf." The resulting New York Werewolf Mix stays true to the vocal integrity of the original, while soaring, epic Trance-oriented stabs instantly transform the song into something you might hear in a peak-our set at a summer EDM festival.
To spur viral action on the campaign, the video above was released on YouTube and that track was made available as a free download from Trident's Facebook page.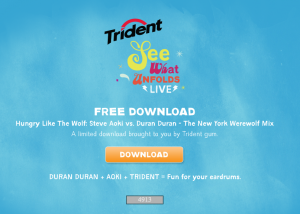 Fans could remix the video using the radio version of the .mp3 and footage and images available for download at Genero.TV. Winners were announced on June 27th.
See the full story in Ad Age here: https://bit.ly/KLa5qh